| | |
| --- | --- |
| France | |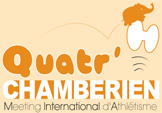 Chambéry
8e Quatr'H Chambérien
Sunday 6 July 2014
Le Royaume des Haies
Hurdles Kingdom
El Reino de las Vallas
The meeting in Geneva for the 400m hurdles men and women participates in the "Golden Triangle" which rewards the athlete (male and female) with the best average performance during the meetings in Geneva (Saturday, June 14, 2014 ), Tarare (Saturday 5 July 2014) and Chambéry (Sunday, 6 July 2014).
The prize (€ 450) will be rewarded at the meeting Quatr'H in Chambéry. (at least 50"00 average be the men, and 56"00 by the women)
Le meeting de Genève, pour le 400m haies hommes et femmes, participe au "Triangle d'Or" qui récompense l'athlète (homme et femme) ayant obtenu la meilleure performance moyenne [1] lors des meetings de Genève (samedi 14 juin 2014), Tarare (samedi 5 juillet 2014) et Chambéry (dimanche 6 Juillet 2014). La remise des prix (450€) sera effectuée lors du meeting Quatr'H de Chambéry.
---

Programme
- Men : 400m hurdles, 110m hurdles
- Women : 400m hurdles, 100m hurdles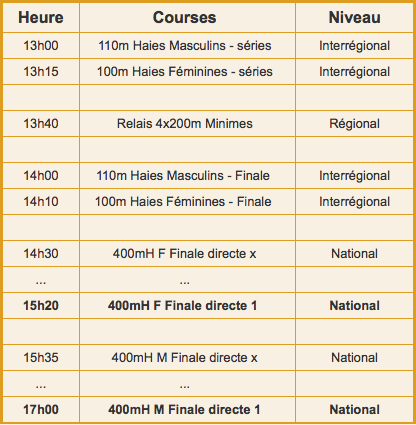 Stadium du Mas Barral, Chambéry
8 couloirs en ligne droite (inversion possible)
6 couloirs en virage
Bing Maps
---

Responsable Inscriptions : M. Nicolas Doumeng
— Mobile : +33 680 871 449
---

Directeur du meeting : M. Denis Marin
— Mobile : +33 609 451 809

Responsable Transport/Hébergement : M. Jacky Ballini
— Mobile : +33 672 261 049
---

Site officiel du meeting :
www.4hchamberien.com

Accès:
Carte d'accès (Michelin)

Accreditation's deadline
Monday 30 June 2014

[1] ATTENTION: La récompense est attribuée uniquement si la moyenne des trois courses est inférieure à 50"00 chez les hommes et 56"00 chez les femmes