| | |
| --- | --- |
| Switzerland | |

Genève
27e AtletiCAGenève
Mémorial Georges Caillat
Swiss-Meeting
Saturday 14 June 2014

Program / main events:
- Men : 100m, 200m, 400m, 1500m, 110m H, 400m H, LJ, TJ, HJ, PV, SP, JT, 4x100m
- Women : 100m, 200m, 400m, 800m, 100m H, 400m H, LJ, TJ, HJ, PV, SP, JT, 4x100m
NB: The Long Jump and the Pole Vault track has been completely resurfaced / Les pistes d'élan du saut en longueur et du saut àla perche ont été entièrement refaites / Le pedane del salto in lungo e del salto con l'asta sono state completamente rifatte.
"EAP Future": masculins: Under 20/99cm; féminines: Under 18/76cm). Attention, la catégorie Future se court uniquement 1 fois
The meeting in Geneva for the 400m hurdles men and women participates in the "Golden Triangle" which rewards the athlete (male and female) with the best average performance during the meetings in Geneva (Saturday, June 14, 2014 ), Tarare (Saturday 5 July 2014) and Chambéry (Sunday, 6 July 2014).
The prize (€ 450) will be rewarded at the meeting Quatr'H in Chambéry. (at least 50"00 average be the men, and 56"00 by the women)
Le meeting de Genève, pour le 400m haies hommes et femmes, participe au "Triangle d'Or" qui récompense l'athlète (homme et femme) ayant obtenu la meilleure performance moyenne [1] lors des meetings de Genève (samedi 14 juin 2014), Tarare (samedi 5 juillet 2014) et Chambéry (dimanche 6 Juillet 2014). La remise des prix (450€) sera effectuée lors du meeting Quatr'H de Chambéry.
Reminder:

Regarding jumps' events / Concerne les concours de sauts / Concerne i concorsi di salto:

- If the number of athletes competing in the jumping event exceeds 8, only the 8 best after 3 jumps will be allowed for the final 3 attempts, according to the IAAF rules.
- Si le nombre de concurrents présents au départ est supérieur à 8, alors seuls les 8 meilleurs après 3 sauts pourront participer aux 3 derniers sauts, conformement aux reglements IAAF en vigueur.
- Se il numero di atleti presenti è più di 8, solo gli 8 migliori dopo 3 salti saranno qualificati per gli ultimi 3 salti, secondo il regolamento IAAF.

Contact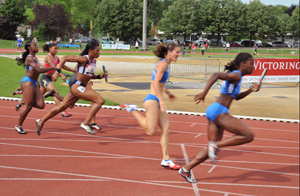 - Meeting director:
Pascal Thurnherr
ptr@atleticageneve.ch
- T.: +41 79 241 85 46 (mob)
- Meeting President:
Walter Zecca
1b chemin des Serves
CH - 1228 Plan-Les-Ouates
+41 78 707 01 67
wza@atleticageneve.ch
- Honorary President
Pablo Cassina
Impasse du Pas de l'Echelle, 275
F - 74560 Monnetier
pca@atleticageneve.ch
- T.: +41 76 380 64 11 (mob)
- T.: +41 22 348 74 76 (office)


: pablocassina
- E-Mail: geneve@eap-circuit.org
- Site officiel du meeting www.atleticageneve.ch
- Site officiel du club organisateur CAG Genève www.cag-geneve.ch
-

AtletiCAGenève


: #atleticageneve
---

Organizer
Centre Athlétique de Genève
Case Postale Mt Blanc 1292
CH - 1211 Genève 1
Références bancaires:
CCP: 12-4210-9
IBAN: CH70 0900 0000 1200 4210 9
BIC: POFICHBEXXX

Stadium
Stade du Bout du Monde
Route de Vessy, 14
CH - 1206 Champel / Ge
Tel. Fax : +41 (0)22 346 94 00
Access to the stadium: carte

Location & Access
Carte d'accès (Michelin)
---

Accreditation's deadline
Sunday 1st June 2014
---

Participation's fees
CHF 20.00 (15€) à payer le jour du meeting, lors de la confirmation de l'inscription à la chambre d'appel. Cartes de crédit, acceptées.
N.B.: Seuls les athlètes membres du circuit EAP, les athlètes suisses membres du groupe Swiss-starters" ainsi que les athlètes invités (selon accord écrit avec l'organisateur) ne payent pas de finance d'inscription.




[1] ATTENTION: La récompense est attribuée uniquement si la moyenne des trois courses est inférieure à 50"00 chez les hommes et 56"00 chez les femmes