| | |
| --- | --- |
| Switzerland | |

Genève
31st AtletiCAGenève
Mémorial Georges Caillat
Saturday 9 June 2018

Provisional Program / main events:
- Men: 100m, 200m (A/B/C), 400m, 110m hurdles, 400m hurdles, 1500m, 3000m Steeple, High Jump Long Jump, Pole Vault, Javelin Throw, Shot Put, 4 x 100m (+U18).

Women: 100m (A/B/C), 200m, 400m, 100m hurdles, 400m hurdles, 800m, High Jump, Long Jump, Triple Jump, Pole Vault, Discus Throw, Hammer Throw, Shot Put, 4 x 100m (+U18).

For men's and women's U16 (born 2003-2004), only for EAP members and Geneva athletes: 80m sprint
Please note:
There are no finals.
2 distincts entry standards: one for international athletes and the other for Swiss athletes.

Timetable and Entry Standards: tbc
Reminder:

Regarding jumps' events / Concerne les concours de sauts / Concerne le gare di salto:

- If the number of athletes competing in the jumping event exceeds 8, only the 8 best after 3 jumps will be allowed for the final 3 attempts, according to the IAAF rules.
- Si le nombre de concurrents présents au départ est supérieur à 8, alors seuls les 8 meilleurs après 3 sauts pourront participer aux 3 derniers sauts, conformement aux reglements IAAF en vigueur.
- Se il numero di atleti presenti è più di 8, solo gli 8 migliori dopo 3 salti saranno qualificati per gli ultimi 3 salti, secondo il regolamento IAAF.

- Meeting President:
Walter Zecca
1b chemin des Serves
CH - 1228 Plan-Les-Ouates
- T.: +41 78 707 01 67 (mob)
wza@atleticageneve.ch

Contact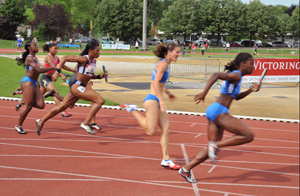 - Meeting director:
Pascal Thurnherr
ptr@atleticageneve.ch
- T.: +41 79 241 85 46 (mob)
- Vice-President
Pablo Cassina
Impasse du Pas de l'Echelle, 275
F - 74560 Monnetier
pca@atleticageneve.ch
- T.: +41 76 380 64 11 (mob)


: pablocassina
- E-Mail: geneve@eap-circuit.org
- Site officiel du meeting www.atleticageneve.ch
- Site officiel du club organisateur CAG Genève www.cag-geneve.ch


: AtletiCAGenève



: #atleticageneve
- Instagram: atleticageneve

Weather conditions (live camnera)
What is the weather like on the track ? View the livecam on from tv.telepherique-du-saleve.com
---

Organizer
Association AtletiCAGenève

Track Stadium
Stade du Bout du Monde
Route de Vessy, 14
CH - 1206 Champel / Ge
Tel. Fax : +41 (0)22 346 94 00
Access to the track: map

Location & Access
Carte d'accès (Michelin)
---

Accreditation's deadline
Monday 28 may 2018 -> some events may be completed earlier and registration may be closed before the deadline !
---

Participation's fees
CHF 20.00 (15€) à payer le jour du meeting, lors de la confirmation de l'inscription à la chambre d'appel. Cartes de crédit, acceptées.
N.B.: Seuls les athlètes membres du circuit EAP, les athlètes suisses membres du groupe Swiss-starters" ainsi que les athlètes invités (selon accord écrit avec l'organisateur) ne payent pas de finance d'inscription.