EAP annual congress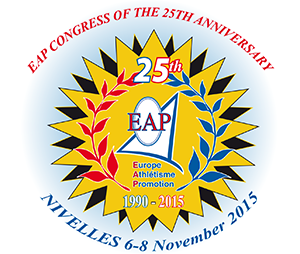 The annual congress is the governing body of the EAP circuit.
Organized alternately by different organizers in their city, it is a kind of "General Assembly".
In the navigation menus on your right, you can find the information about the organization of this conference, at this date.
The congress' reports are available in the grid here below.
The Internal Control Commission remains at your's disposal to answer your questions or to discuss any application request.
Le congrès annuel est l'organe décisionnel du circuit EAP.
Organisé alternativement par des organisateurs différents dans leur ville, il constitue une sorte d' "Assemblée Générale".
Dans les menus de navigation sur votre droite, vous pouvez consulter les informations relatives à l'organisation de chaque congrès organisé à ce jour.
Les comptes-rendus des congrès sont disponibles dans la grille ci-dessous.
La Commission Interne de Contrôle reste à votre disposition pour répondre à vos questions ou pour analyser toute demande de candidature.
Minutes of the EAP congresses

YEAR
DATE
LOCATION
MINUTES' DOWNLOAD
2019
8-10 Nov.
29th EAP Congress, Leiria (POR)
--
2018
2-4 Nov.
28th EAP Congress, Valence (FRA)
--
2017
3-5 Nov.
27th EAP Congress, Budapest (HUN)
--
2016
4-6 Nov.
26th EAP Congress, Amsterdam (NED)
--
2015
6-8 Nov.
25th EAP Congress, Nivelles (BEL)
|
2014
7-9 Nov.
24th EAP Congress, Biella (ITA)
download the EN version
2013
8-10 Nov.
23d EAP Congress, Newcastle (GBR)
download the EN version (to
be approved by members)
2012
2-4 Nov.
22nd EAP Congress, Namur (BEL)
download FR version
download EN translation
2011
4-6 Nov.
21st EAP Congress, Valbonne / Nice (FRA)
download
2010
5-7 Nov.
20th EAP Congress, Dour (BEL)
download
2009
6-8 Nov.
19th EAP Congress, Donnas (ITA)
download
2008
31 Oct. - 2 Nov.
8th EAP Congress, Albertville (FRA)
download
2007
2-4 Nov.
17th EAP Congress, Bilbao (ESP)
download
2006
3-5 Nov.
16th EAP Congress, Loughborough (GBR)
n.a.
2005
4-6 Nov.
15th EAP Congress, Lugano (SUI)
n.a.
2004
6-8 Nov.
14th EAP Congress, Genève (SUI)
n.a.
2003
7-9 Nov.
13th EAP Congress, Fribourg (SUI)
download
2002
8-10 Nov.
12th EAP Congress, Celle Ligure (ITA)
download
2001
zz Nov.
11th EAP Congress, Nivelles (BEL)
n.a.
2000
zz Nov.
10th EAP Congress, Andorra (AND)
n.a.
1999
zz Nov.
9th EAP Congress, Gavà (ESP)
n.a.
1998
zz Nov.
8th EAP Congress, Namur (BEL)
n.a.
1997
7-9 Nov.
7th EAP Congress, l'Aigle (FRA)
download
1996
zz Nov.
6th EAP Congress, Geneva (SUI)
n.a.
1995
zz Nov.
5th EAP Congress, Palafrugell (ESP)
n.a.
1994
zz Nov.
4th EAP Congress, Lyon (FRA)
n.a.
1993
zz Nov. ?
2d EAP Congress, Antwerpen (BEL)
n.a.
1993
zz Jan. ?
3d EAP Congress, Nivelles (BEL)
n.a.
1992
02 Mar.
1st EAP Congress, Genova (ITA)
n.a.
---

The Congress is the place for the accession of new meetings, if you want to submit your application, it's now time!
Le congrès étant le lieu pour l'adhésion de nouveaux meetings, si vous souhaitez présenter votre dossier de candidature, c'est le moment !

Candidate ? / Candidat ?
Search for new organizers for 2015 / Recherche de nouveaux organisateurs pour 2015
EAP circuit is looking for new candidates for the organization of indoor and outdoor meets for 2015.
Applications for a new meet must be received by the Internal Control Commission (ICC), no later than Monday, 20th October 2014.
Le circuit EAP recherche de nouveaux meetings candidats pour l'organisation de meetings indoor et outdoor pour 2015.
Les dossiers de candidature pour un nouveau meeting doivent parvenir à la Commission Interne de Contrôle, au plus tard le lundi 20 octobre 2014.
Consult the list of the actual candidates ? / Voir la liste des candidatures en cours ?
N.B.: Participation in the Congress is mandatory for all members and candidates / La participation au Congrès est obligatoire pour tous les membres et les candidats.
---
Reminder / Pour rappel :
1) Members and candiates / Membres et candidats
Costs of Congress: the cost of transport and stay are the responsibility of each member or candidate.

Frais du congrès : le coût du transport et du séjour sont à la charge de chaque membre ou candidat.

Cost of membership EAP Member: the annual fee was set at € 200 (Congress decides each year the amount of the contribution). It is to be paid on site at the Congress.

Frais d'adhésion membres EAP : la cotisation annuelle a été fixée à 200 € (le Congrès décide d'année en année du montant de la cotisation). Elle est à régler sur place, lors du Congrès.

Entry fee for new EAP members: In addition to the annual fee (200 € for 2015) new members must also pay a registration fee of € 150.

Taxe d'entrée pour les nouveaux membres EAP : en plus de la cotisation annuelle (de 200 € pour 2015) les nouveaux membres doivent également s'acquitter d'une taxe d'inscription de 150 €.

---
2) Congress organizer / L'organisateur du congrès
Location / Lieu du congrès: Il réserve le lieu du congrès de manière à que l'hébergement et la salle du congrès soient optimales (salle équipées et suffisamment spacieuse (internet, beamer) avec service "coffee break") pour la bonne tenue des travaux et pour les accès depuis un aéroport. Le lieu du congrès est idéalement l'hôtel du meeting ou dans le complexe sportif. Le niveau de l'hôtel doit être bon (min. 3 étoiles, 4 étoiles souhaité)
Costs / Coûts: Les coûts du congrès (hébergement, réservation de la salle équipée, les coffee breaks, les repas du vendredi soir, samedi midi et samedi soir) doivent être communiqués à temps aux membres (minimum 45 jours avant le congrès). L'organisateur s'engage à proposer une formule attractive après avoir négocié les prix avec l'hôtel
Organizer participation in the congress / Participation de l'organisateur du congrès: il est de bon ton que le club organisateur offre, dans la mesure du possible, le repas du samedi soir ou qu'il y participe de manière conséquente
Minutes / Prise de PV (de préférence par une autre personne que le délégué EAP)

Le PV est ensuite envoyé avant fin novembre à la ICC et à EXEC pour contrôle et validation. Il sera alors envoyé et publié sur le site au plus tard le 15 décembre afin que les décisions puissent rentrer en force avant le début de la saison indoor. Le PV sera rédigé d'abord dans la langue du congrès (français ou anglais) et une fois validé, il sera traduit dans la 2ème langue. Si l'organisateur parle une autre langue, le pV pourra également être disponible en cette 3èeme langue.

Official language / Langue officielle, la langue officielle historique du circuit est le français mais suite à l'expansion du circuit l'anglais est la langue préférée pour les échanges entre membres. Au congrès la langue officiells sera, selon le lieux, le français ou l'anglais. Si l'organisateur parle une autre langue, celle-ci sera également présente, mais les échanges se feront en anglais ou en français.
Interpreter / Interprète. Assure une (mais idéalement deux) personnes pour le travail d'interprète (de préférence par une autre personne que le délégué EAP)
Meeting with local authorities / Rencontre avec les autorités locales Dans la mesure du possible, invite les partenaires locaux (mairies, sponsors et/ou personnalités sportives médiatiques locales)
The value / La monnaie, indépendamment du pays, devrait être exprimée en Euros et l'organisateur devrait accepter les euros (ou la monnaie locale équivalente)